For this assignment i chose to visit The Hunt Museum on Ruthland Street in Limerick City. I myself
have a great interest in art and art history so i thought this would be an exciting place to visit and write about. The museum also has its own Facebook page
I headed into the city with one of de lads from the DMD class as he needed to go visit a place for his assignment too!, Upon arriving outside the museum there was a funky looking statue of a horse painted in an odd color pattern of green, red, black with zebra designs around its neck and drawings around its body. The horse was inspired by the Rubberbandits Horse Outside song. We received a guide tour around the museum which consisted on 3 floors. Before beginning the tour the guide told us about the collection which was owned by John Hunt and his Gertrude. John was born in 1900 (d. 1976) in London and became an antique dealer, his wife Gertrude was born in 1903 (d. 1995) in Mannheim. They both had an mutual interest in art which lead them to have such a vast and amazing collection of art and various different artifacts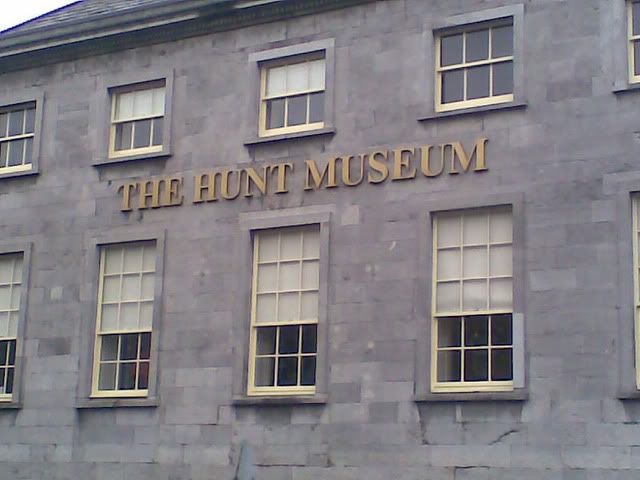 The tour began on the first floor which was dedicated to pottery, medieval art and decorative art. In here we got to see various artifacts such as sword blades, shields. On the first floor is well was the The Captain's Room

, a room featuring many different paintings, the room also made use of the old architecture of the building with the big massive bay windows for plenty of natural light!. I found it amazing to see the some of the old pottery was still in reasonably good condition.!
Below shows one of the many paintings hung in the museum
On the second floor of the museum was used for classical archeology, prehistoric europe art. On this floor it contained much of the gold artifacts the museum had too offer such as torcs which were used as jewelry back in the day, another room contained tiny lil artifacts with expensive jewels, its made to see the craftmanship involved!
In the picture below shows the

pegasus brooch, a unique piece of jewelry with many jewels and designs. Beside it is the pomander memento mori skull, a tiny golden skull which was used for storing herbs.
The last floor was the basement of the museum, down here had the
Treasury Room,
crucifix room and religious artifacts. The Treasury Room was done up to look like an old style treasury that would have been in an monastery. If holds alot of the museums religious artifacts such as old crosses, religious paintings etc. The crucifix room as you guessed featured many crucifixes and rosary beads, all crafted with amazing detail!.
All in all i quite enjoyed my visit to the museum, recommend it to anyone who has any bit of interest in art!
Will M (11139331)